Mailbox Monday at
The Printed Page
is the gathering place for readers to share the books that came into their house last week (checked out library books don't count,
eBooks
& audio books do). Warning: Mailbox Monday can lead to envy, toppling
TBR
piles and humongous wish lists.
Another busy week but it sure doesn't feel like I accomplished much! It was great for books though and I have quite a variety of new goodies to enjoy. I hope you also had a bountiful week and a wonderful Easter!
The Passage
by Justin Cronin
From
Random House


"It happened fast. Thirty-two minutes for one world to die, another to be born."
First, the unthinkable: a security breach at a secret U.S. government facility unleashes the monstrous product of a chilling military experiment. Then, the unspeakable: a night of chaos and carnage gives way to sunrise on a nation, and ultimately a world, forever altered. All that remains for the stunned survivors is the long fight ahead and a future ruled by fear—of darkness, of death, of a fate far worse.
As civilization swiftly crumbles into a primal landscape of predators and prey, two people flee in search of sanctuary. FBI agent Brad Wolgast is a good man haunted by what he's done in the line of duty. Six-year-old orphan Amy Harper Bellafonte is a refugee from the doomed scientific project that has triggered apocalypse. He is determined to protect her from the horror set loose by her captors. But for Amy, escaping the bloody fallout is only the beginning of a much longer odyssey—spanning miles and decades—towards the time and place where she must finish what should never have begun.
With The Passage, award-winning author Justin Cronin has written both a relentlessly suspenseful adventure and an epic chronicle of human endurance in the face of unprecedented catastrophe and unimaginable danger. Its inventive storytelling, masterful prose, and depth of human insight mark it as a crucial and transcendent work of modern fiction.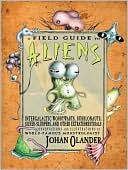 A Field Guide to Aliens

by Johan

Olander
From
Marshall

Cavandish

Children's Books
Concluding after years of reports and direct observations that approximately 45 percent of the world's monsters are actually aliens,

Olander

, author of A Field Guide to Monsters (2007), offers illustrated notes on 28 types of interstellar interloper-from the harmless Intergalactic Worrywarts of Planet

Insecura

and sewage-eating Sliver-

Slurpers

to more ominous False

Santas

, robotic

onesie

-clad

Bebies

and, scariest of all, Boogie-

doods

(aka Discos) from Planet Funk. On pages designed to look like well-thumbed scrapbook leaves, each entry includes extensive comments on diet, distinguishing features and details of Close Encounters, all sandwiched between a carefully drawn full-"body" portrait and a set of quicker "eyewitness" sketches and supposed snapshots. Though no replacement for Andrew

Donkins's

Alien Encyclopedia: The Ultimate Alien A-Z (1999), this makes a worthy addition to our too-thin store of space-alien lore and will leave younger readers on the alert for glimpses of

Clustors

,

Liverpudlins

and other nonhuman visitors. (Fiction? 10-12)
She's So Dead To Us

by

Kieran

Scott
From
Simon &

Schuster
When having money is all that matters, what happens when you lose it all?
Perfect, picturesque Orchard Hill. It was the last thing Ally Ryan saw in the rear-view mirror as her mother drove them out of town and away from the shame of the scandal her father caused when his hedge fund went south and practically bankrupted all their friends — friends that liked having trust funds and new cars, and that didn't like constant reminders that they had been swindled. So it was adios, Orchard Hill. Thanks for nothing.
Now, two years later, Ally's mother has landed a job back at the site of their downfall. So instead of Ally's new low-key, happy life, it'll be back into the snake pit with the likes of Shannen Moore and Hammond Ross.
But then there's Jake Graydon. Handsome, wealthy, bored Jake Graydon. He moved to town after Ally left and knows nothing of her scandal, but does know that he likes her. And she likes him. So off into the sunset they can go, right? Too bad Jake's friends have a problem with his new crush since it would make Ally happy. And if anyone deserves to be unhappy, it's Ally Ryan.
Ally was hoping to have left all the drama in the past, but some things just can't be forgotten. Isn't there more to life than money?

Bitten

by Kelley Armstrong
From
PaperBack

Swap

I've got to get out of here - I don't have a lot of time left.
Philip doesn't stir when I slip from the bed. There's a pile of clothing tucked underneath my dresser so I won't have to risk the squeaks and groans of opening drawers and closets. I pick up my keys, clasping my fist around them so they don't jangle, ease open the door and creep into the hallway. My legs now itch as well as hurt and I curl my toes to see if the itching stops. It doesn't. It's too late to drive to a safe place now-the itching has crystallized into a sharp burn. I stride out onto the streets, looking for a quiet place to Change.
Young, beautiful, and successful, Elena

Michaels

seems to have it all. Her happy, organized life follows a predictable pattern: filing stories for her job as a journalist, working out at the gym, living with her architect boyfriend, and lunching with her girlfriends from the office. And once a week, in the dead of night, she streaks through a downtown ravine, naked and furred, tearing at the throats of her animal prey.
Elena

Michaels

is a werewolf.
The man who made her one has been left behind, but his dark legacy has not. And though Elena struggles to maintain the normal life she's worked so hard to create, she cannot resist the call of the elite pack of werewolves from her past. Her feral instincts will lead her back to them and into a desperate war for survival that will test her own understanding of who, and what, she is.
Numbers

by Rachel Ward
From
Secret Dreamworld of a

Bookaholic



Ever since she was child,

Jem

has kept a secret: Whenever she meets someone new, no matter who, as soon as she looks into their eyes, a number pops into her head. That number is a date: the date they will die. Burdened with such awful awareness,

Jem

avoids relationships. Until she meets Spider, another outsider, and takes a chance. The two plan a trip to the city. But while waiting to ride the Eye

ferris

wheel,

Jem

is terrified to see that all the other tourists in line flash the same number. Today's number. Today's date. Terrorists are going to attack London.

Jem's

world is about to explode!
Speak
by Laurie

Halse

Anderson
From
Secret Dreamworld of a

Bookaholic


Since the beginning of the school year, high school freshman Melinda has found that it's been getting harder and harder for her to speak out loud: "My throat is always sore, my lips raw.... Every time I try to talk to my parents or a teacher, I sputter or freeze.... It's like I have some kind of spastic laryngitis." What could have caused Melinda to suddenly fall mute? Could it be due to the fact that no one at school is speaking to her because she called the cops and got everyone busted at the seniors' big end-of-summer party? Or maybe it's because her parents' only form of communication is Post-It notes written on their way out the door to their nine-to-whenever jobs. While Melinda is bothered by these things, deep down she knows the real reason why she's been struck mute... Laurie

Halse

Anderson's first novel is a stunning and sympathetic tribute to the teenage outcast. The triumphant ending, in which Melinda finds her voice, is cause for cheering (while many readers might also shed a tear or two). After reading
Speak
, it will be hard for any teen to look at the class scapegoat again without a measure of compassion and understanding for that person--who may be screaming beneath the silence. (Ages 13 and older)