Mailbox Monday at
The Printed Page
(this month at
Chick Loves Lit
) is the gathering place for readers to share the books that came into their house last week (checked out library books don't count,
eBooks
& audio books do). Warning: Mailbox Monday can lead to envy, toppling
TBR
piles and humongous wish lists.
I only got three titles in the last two weeks but that's been more than enough lately. I haven't had much time to read so now I'm looking forward to relaxing in the sunshine with a pile of books. I hope you found some goodies in your mailbox too!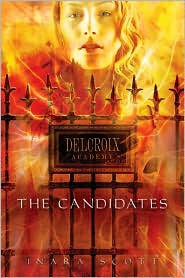 Delacroix Academy: The Candidates
by Inara Scott
From Disney Book Group
Dancia Lewis is far from popular. And that's not just because of her average grades or her less-than-glamorous wardrobe. In fact, Dancia's mediocrity is a welcome cover for her secret: whenever she sees a person threatening someone she cares about, things just...happen. Cars skid. Structures collapse. Usually
someone gets hurt. So Dancia does everything possible to avoid getting
close to anyone, belieiving this way she can supress her powers and keep them hidden. But when recruiters from the prestigious Delcroix Academy show up in her living room to offer her a full scholarship, Dancia's days of living under the radar may be over. Only, Delcroix is a school for diplomats' kids and child geniuses--not B students with uncontrollable telekinetic tendencies. So why are they treating Dancia like she's special? Even the hottest guy on campus se
ems to be going out of his way to make Dancia feel welcome. And then there's her mysterious new friend Jack, who can't stay out of trouble. He suspects something dangerous is going on at the Academy and wants Dancia to help him figure out what. But Dancia isn't convinc
ed. She hopes that maybe the
recruiters know more about her "gift" than they're letting on. Maybe they can help her understand how to use it...But not even Dancia could have imagined what awaits her behind the gates of Delcroix Academy.
Every Demon Has His Day
by Cara Lockwood
From PaperBack Swap
In her wildest dreams, Constance Plyd never thought she'd see dead people. Then again, she never thought she'd be hit on by her ex-husband at his own funeral...or be the prime suspect in his murder. Fortunately for Constance, irresistibly sexy sheriff Nathan Garrett wants to believe her explanation -- that a card-carrying demon in a black suit
killed Jimmy in the garage -- or maybe he wants something more. Either way, all signs are leading to a showdown of hellish proportions, with Constance at the heart of the battle, when the Devil and would-be mother of the Antichrist (a pop princess wannabe) descends on Crockett County. Sure, she'd rather be cooking up a storm for the next state fair, but if she's going to be the Chosen One, at least Constance can give a few demons a Texas-style butt kicking....
Heart
s At Stake
by
Alyxandra Harvey
From PaperBack Swap
On Solange's sixteenth birthday, she is going to wake up dead. As if that's not bad enough, she also has to outwit her seven overprotective older brothers, avoid the politics involved with being the only daughter born to an ancient vampire dynasty, and elude Kieran Black—agent of an anti-vampire league who is searching for his father's killer and is intent on staking Solange and her entire family.
Luckily she has her own secret weapon—her human best friend Lucy—who is willing to defend Solange's right to a normal life, whether she's being smothered by her well-intentioned brothers or abducted by a power-hungry queen. Two unlikely alliances are formed in a race to save Solange's eternal life—Lucy and Solange's brother Nicholas, and Solange and Kieran Black—in a dual romance that is guaranteed to jump start any romance-lover's heart.