I love my Nook Color and have had it for almost two years. I still prefer "real" books but it's so handy to travel with my Nook and have access to the many ebooks that are available now. My brothers and I bought our mom a Nook Simple Touch too but hers is just a black and white reader, not a tablet. It's lightweight, has a long battery life and she has loved it! I've been looking into upgrading but I'm tight with money and had no plans to get anything yet and there are so many to choose from. I did notice the prices are dropping lately on the Nook tablets (as the prices usually do) and while flipping around the channels last month I noticed
QVC
had a
smokin'
deal. I've never bought anything there before, I've barely watched it, but this had my attention.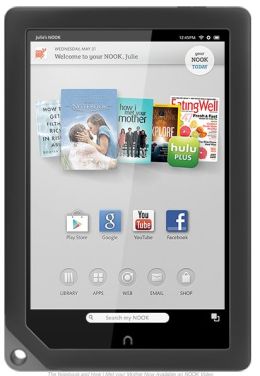 They had a 24 hour sale on Nook HD+ tablet (9" 32 GB). It was marked down from $340.00 to $170.00. That was compatible with other places that were also marking them down to close to that price at $180.00 but it was the 16 GB. So with more space this was a better deal. They also included an extra charger and $143.00 worth of apps and magazines and you could pay for it over 5 payments. Wow! I wanted to order it right then but I didn't. I went to bed and checked in the morning. I thought it they were sold out it wasn't meant to be. The ad was still there and the sale ended at midnight. Hubby said to order it but I tried to talk myself out of it. Then I told my mom to see if she was interested. She was and at 11:00 p.m. with 59 minutes to spare we ordered two of them. It was painful to push that last button to make the sale complete but it was exciting!!
I decided to get another Nook because I've enjoyed the experience with
Barnes & Noble
and I can keep everything I already have on my account. I now have access to my books and games on both Nooks and much more storage. It was definitely a terrific upgrade! I am having way too much fun with the games and apps now. So far it's been a great purchase and I use it every day. I still have to get a cover I just haven't found what I want yet. For my Nook Color I found a nice deal on line that included a cover, screen protector, extra cords, etc. It was very inexpensive and has held up well. I just need to hurry up and pick something and get it ordered.
I'm in no way affiliated with
QVC
or
B&N
, this is just my experience. Is anyone else familiar with this tablet? Do you have an ereader?