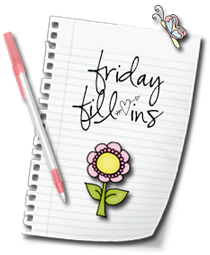 Graphic courtesy of
Tonya
!
And...here we go!
1.
Having a messy house
is not the end of the world,
fortunately.
2. Sitting here, listening to the sound of rain falling,
I
usually enjoy it but lately we've had so much, I'm really sick of hearing it!
3.
Chocolate (of course)
tastes so good!
And so does ice cream, pizza, brownies...
4. Sometimes, putting others first is
hard, but it never is when it's for my kids
.
5.
Sunset over the hills of my house
is breathtaking, really.
6. Well, maybe there is
hope
. My sons actually brought down their hampers without being asked!
7. And as for the weekend, tonight I'm looking forward to
having birthday dinner for my son (if we can all get on the same schedule)
,
tomorrow my plans include
going to my nephew's graduation party
and Sunday, I want to
relax in my new hammock and read, read, read
!