Summary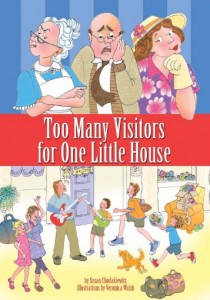 The crabby neighbors of El Camino can't bear all the music, fun and laughter at the house of the new family on the block as aunts, uncles, cousins and grannies arrive for a big noisy reunion. Too Many Visitors for One Little House is a joyful story about the importance of being included..

My Thoughts
This was an adorable children's book with charming illustrations. The house filled with relatives reminded me of the upcoming holidays and how my own family will be getting together soon. It's also a good reminder for including others who may be alone or have no plans of their own. Sometimes that nosy neighbor peeking out the window is just lonely!
The story is lighthearted and humorous and enjoyable for adults as well as children. There is a comical variety of family members that provides every reader with someone to identify with. The illustrations are soft and colorful but they also have very clever patterns and textures added in. I had to touch that fuzzy sweater to see if it really was fuzzy or not (it wasn't but I thought it was!) and the family dog looked so soft. There was so much to look at on every page!
I will happily be sharing this book with the little people in my family. This might be something fun to do together on Thanksgiving Day. I know that I will be happy to read it again!
About th
e Author
Susan Chodakiewitz is a writer, composer and producer. She is the founder of Booksicals Children's Books- Encouraging the love of reading through the arts. Through her company Booksicals she has created the Booksicals on Stage literacy program which is currently presenting musical performances of the picture book Too Many Visitors for One Little House at schools, libraries, and special events.
Susan lives in Los Angeles in a lively household filled with music, three sons, a husband, a Dalmatian and lots of visitors. Susan loves picture books and when she wrote a musical based on one of her favorites, she realized it was time to start writing her own picture books. Too Many Visitors for One Little House is Susan's debut book.
About t
he Illustrator
With a sense of humor and identification to the characters, Veronica Walsh debuts illustrations in Too Many Visitors for One Little House. Ms Walsh studied art and design at California State University, Long Beach and worked as a graphic designer for many years. She lives in So Cal with her husband and three cats.
Thank you to Pump Up Your Books! for a review copy of the book.
Tour Schedule:
Monday, Nov 2
Book Review and book giveaway at 4 the Love of Books
Tuesday, Nov. 3
Interview at Pump Up Your Book
Interview at Paperback Writer
Wednesday, Nov. 4
Book Review at Cafe of Dreams
Thursday, Nov. 5
Book Review at The Princess and the Monkey
Friday, Nov. 6
Book Review at Geek Girl Reviews
Monday, Nov. 9
Book Review or Interview/Book Giveaway at Bookin' with Bingo
Tuesday, Nov. 10
Book Review or Interview/Book Giveaway at Bookin' with Bingo
Wednesday, Nov. 11
Interview at Examiner
Thursday, Nov. 12
Book Review at Libby's Library News
Friday, Nov. 13
Book Review at Wrighty's Reads
Monday, Nov. 16
Book Review at Starting Fresh
Tuesday, Nov. 17
Interview at The Hot Author Report
Wednesday, Nov. 18
Book Review at The Crypto Capers Review
Thursday, Nov. 19
Book Review at One Person's Journey Through a World of Books
Friday, Nov. 20
Guest Blogging at The Story Behind the Book
Monday, Nov. 23
Book Review at Merry Weather
Tuesday, Nov. 24
Book Review at Must Read Faster
Wednesday, Nov. 25
Book Review at Pudgy Penguin Perusals
Thursday, Nov. 27
Book Review at Jen's Bookshelf