Mailbox Monday (started at
The Printed Page
) is at
I'm Booking It
this month and is the gathering place for readers to share the books that came into their house last week (checked out library books don't count,
eBooks
& audio books do). Warning: Mailbox Monday can lead to envy, toppling
TBR
piles and humongous wish lists.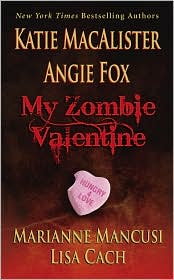 My Zombie Valentine


by MacAlister, Fox, Mancusi & Cach

Bought from The Dollar Store for $1.25!



Four women who are about to dig up the truth!





Tired of boyfriends who drain you dry? Sick of guys who stay out all night howling at the moon? You can do better. Some men want you not only for your body, but your brains. Especially your brains.




It's true! There are men out there who care--early-rising, down-to-earth, indefatigable men who'll follow you for miles. They'll take the time to
surprise you, over and over. One sniff of that perfume, and you'll have to use a shotgun to fight them off. And then, once you get together, all they want is to share a nice meal. And another. And another.

Romeo and J
uliet, eat your hearts out.
"Bring Out Your Dead" by Katie MacAlister
"Gentlemen Prefer Voodoo" by Angie Fox
"Zombiewood Confidential" by Marianne Mancusi
"Every Part of You" by Lisa Cach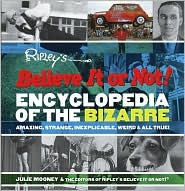 Ripley's Believe It Or Not: Encyclopedia Of The Bizarre


by Julie Mooney


From Paperback Swap for my nephews



Black Dog & Leventhal's bestselling Encyclopedia of the Bizarre is now available in a handier, more reasonably priced edition that retains every word and image of the original. From stupefying stunts to wacky world's records, all of Ripley's riveting findings are here, in an easy-to-browse, impossible-to-put-down color volume.





Where else could you learn that:





• It's estimated that 10,000,000,000,000,000,000, 000,000,000,000,000 snowflakes have fallen to the Earth since the Earth was formed!





• Queen Isabeau of Bavaria used a mixture of boar's brains, crocodile glands, and wolf blood as skin lotion!





• Anna Bread married John Butter in Leeds, England, April 22, 1926!





• Phil Turco of Madison, Wisconsin, swallowed 339 goldfish in two hours!





Bizarre and amazing categories include Accidents and Disasters, Animals and Insects, Archaeology, Feats and Stunts, Prophecies, Records, the Unexplained, and more. It's fascinating fun for the whole family.