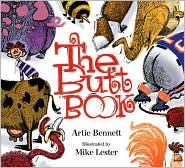 Eyes and ears are much respected,
but the butt has been neglected.
We hope to change that here
and now.
Would the butt please take a bow?
Did you ever notice that, no matter where you sit, you're sitting on the same seat? You can thank your butt for that and more, as you'll see in "The Butt Book" by Artie Bennett, illustrated by Mike Lester.
You might call your butt by a different name. It might be a tushy to you, or a tuchus, bottom, rear-end, heinie, backside or something else very different. In other countries, it might be called a derriere or a keister. Don't be confused, but in England, your butt would be called a "bum". No matter what you call it, it's still the same thing.
So why do you have a butt? Well...it's a good place to put your underpants. It's a great place to sit. You can shake it when you dance. Without it, you wouldn't be able to ride your bike or sit on a seesaw or swing or do anything! Butts, as you can see, are as important as your eyes or ears, your head or your heart. In fact, in the end, your butt is probably one of the most useful things you've got.
Does your child have a bookshelf all his or her own? You can forget using it for awhile if you bring home this hilarious book. "The Butt Book" is going to become the most-read thing in your house.
(Goodreads.com)
~~~~~~~~~~~~~~~~~~~~~~~~~~~~~~
Review
Coming from a family of all males I've heard a lot of butt jokes over the years. Both boys and girls will giggle over this silly, yet tasteful read. Adults will chuckle too! From the first pages delightful rhymes take you on a tour of a variety of butt facts. The colorful illustrations are silly with wonderful details. They are the perfect compliment to the words on the page.
Informative and easy to read, you are likely to find yourself enjoying this again and again. Sure to be a favorite for your kids (and the kid in you!).
Thank you to the author for a copy of this book to review.
Author's site
Illustrator's site
Publisher
Publisher: Bloomsbury USA
Release date: 12/22/09
Pages: 32
Price/format: $16.99/hardcover
Type: Childrens fiction (ages 5-7)