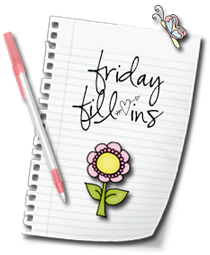 Graphic courtesy of
Tonya
!
And...here we go!
1. When will
this rain ever end
?
2.
hush, hush

by Becca Fitzpatrick and Gran Torino
was the last good book I read or movie I saw or tv show I watched.
3. Everything has its beauty but
summer in the countryside is amazing
.
4.
BBQ pork and cheddar rice
is what I had for dinner.
My hubby is an awesome cook!
5. I'd like your
opinion on the books you've read
, and then you can pass on any of the great ones that you just can't seem to get rid of
!
6.
In bed, asleep
is where I want to be right now
since it never happens before 4:00 a.m. (Although I'd settle for the beach!)
7. And as for the weekend, tonight I'm looking forward to
dinner with family
,
tomorrow my plans include
going to a surprise party for friends
and Sunday, I want to
read and relax in my hammock, preferably in the sunshine
!