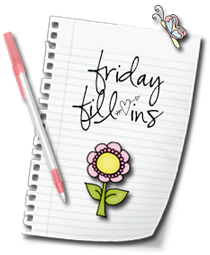 Graphic courtesy of
Tonya
!
1. He was a
one-eyed, one-horned, flying purple-people-eater
.
2.
Sunshine and being outdoors (especially in my hammock)
is what I look forward to most this time of year.
Too bad I haven't been able to experience nearly enough of those with all of this stinkin' rain!
3. My best friend
s are always there for me and I'm so very grateful.
4.
I never cared much for reading
to be honest with you.
Ha! I can't even write that with a straight face!
5. Appearances can be
interesting

and sometimes scary.

(You thought I was going to say deceiving didn't you?)
:D
6. The last person I gave a hug to was
my hubby. I love hugs and I love my hubby!
7. And as for the weekend, tonight I'm looking forward to
relaxing and reading
,
tomorrow my plans include
cleaning the cars, ugh, but it needs to be done
and Sunday, I want to
have a family graduation party for my nephew before he leaves for college!