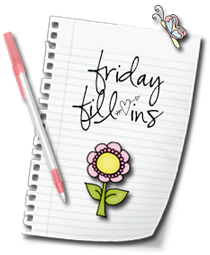 Questions this week are courtesy of my friend, Karen and my cousin, Maribeth. And...here we go!
1. I remember, I remember
when I couldn't wait to be a grown up.
What the heck was my hurry?
2. Dear
children,
I want you to know
how much I love you.
3. Is that my
waistline!!???
4. I'm trying to resist the temptation of
chocolate but it's useless. In fact, I'm going to get some right now! There goes that waistline again.
5. I'm saving a
spot in the hammock
just for you!
6. If I made a birthday list
books
would definitely be on it!!!
7. And as for the weekend, tonight I'm looking forward to
seeing friends
,
tomorrow my plans include
a visit from my brother
and Sunday, I want to
watch my son's first soccer scrimmage of the season. I can't believe it's that time of year already
!