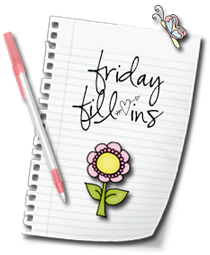 1. Sweet dreams
and don't let the bedbugs bite!
2.
My hubby does so many nice things
especially for me.
3. Silliness
should be a requirement for all adults to stay young at heart.
4.
Since my kids are older now I don't have to trick or treat
this Halloween.
It's a lot less work but it's also a lot less candy!
5. Outstanding or not
my blog has been a lot of fun!
6.
A good night's sleep
is what I want right now!
7. And as for the weekend, tonight I'm looking forward to
having a nice dinner and relaxing,
tomorrow my plans include
watching my son's soccer team win their game
and Sunday, I want to
read, read, read!